Description
DETAILS New SIG SAUER MCX-SPEAR LT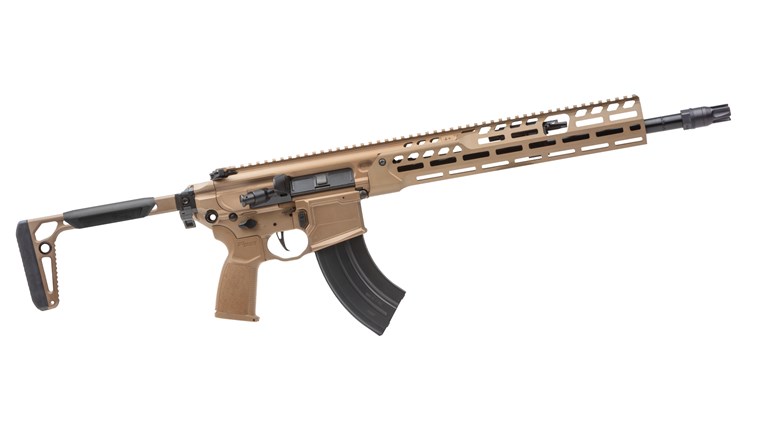 The MCX platform has long been SIG SAUER'S breeding ground for developing the best rifle system in the world through extensive testing, continued innovation and customer feedback.
Now SIG SAUER introduces the latest evolution with the new SIG SAUER MCX-SPEAR LT, based on its predecessor the MCX Virtus the new MCX-SPEAR LT has a lightened handguard with attachment screws for additional rigidity and a lightened profile barrel with improved accuracy.
Other features of the new product include an ambidextrous bolt catch and release on its lower, coyote anodized finish, minimalist stock for maximum compact foldability and AR15 style trigger compatibility. And the new SIG SAUER MCX-SPEAR LT brings the long awaited addition of the 7.62×39 caliber to the MCX family. Developed with a new latch system the 7.62×39 MCX-SPEAR LT was developed to handle the many varieties of 7.62 caliber ammunition while still maintaining reliability and smooth shooting. It has once again set the bar for modular weapons technology.
This week, SIG Sauer unveiled a number of additions to its hugely successful MCX line of next-generation AR rifles, including a new series of weapons that combine the greatest characteristics of the original MCX and the MCX Virtus while offering a variety of caliber possibilities. Introducing the SIG Sauer MCX Spear LT series, which includes the first MCX in 7.62 NATO.
The Spear LT is essentially a lighter version of the newly accepted XM5 rifle by the US military, which is a 6.8x51mm variant of SIG's MCX Spear that won the Next Generation Squad Weapon Program (NGSW) competition earlier in 2022 and will eventually replace the Army's long-serving M4 carbine.
The MCX Spear LT's ability to take trigger packs and triggers in the AR-15 style, which the Virtus cannot, is a significant feature that has been carried over from the original MCX. It comes in the following calibers: 7.62 NATO/.308 Win,.300 AAC Blackout, and 5.56 NATO/.223 Rem.
This is the first 7.62 model to be made available in the MCX range, and SIG doesn't frequently experiment with chambering. To "handle the different kinds of 7.62 millimeter ammo while yet retaining reliability and smooth shooting," the gun manufacturer claims it has created a new lock system.
New SIG SAUER MCX-SPEAR LT
Product Specifications
Manufacturer:Sig SauerModel:MCX-Spear LTAccessories:Manual, LockAction:Semi-AutoBarrel Length:9″Barrel Material:Carbon SteelBarrel Twist:1:5Caliber:300 BlackoutCapacity:30Color:Coyote TanGrip:PolymerMounting System:M-LOKOperating System:Gas PistonOverall Length:27.75″Stock Type:FoldingThread Pitch:5/8×24Trigger Type:Flat Blade MatchWeigh


New SIG SAUER MCX-SPEAR LT